Red Light Therapy Vs. Blue Light Therapy, What Are the Differences?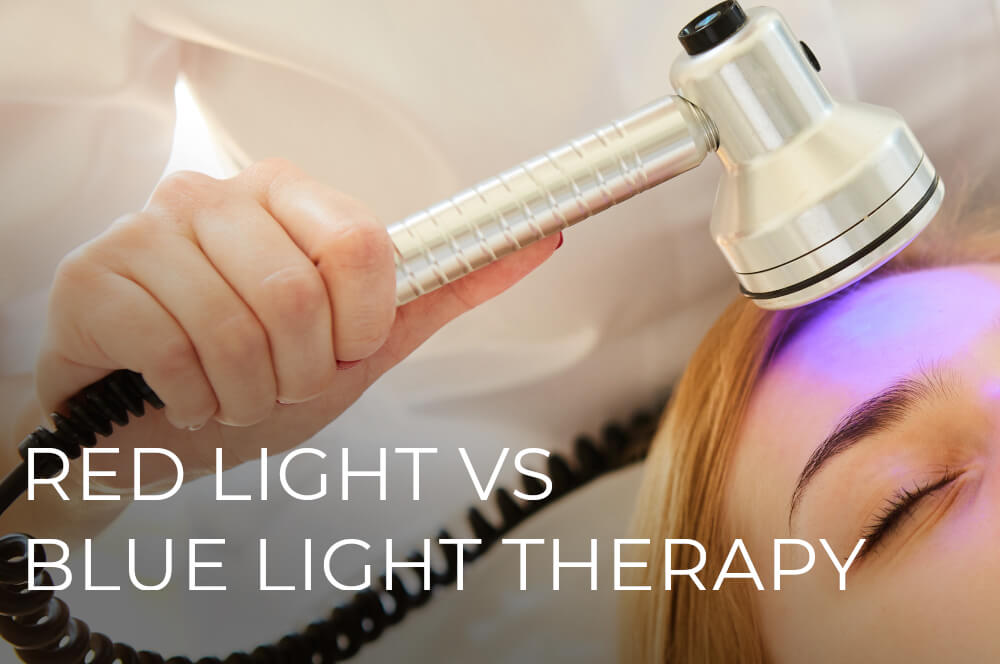 No matter how much care you take with your skin, there will be times in your life when your skin looks dull, inflamed, or aged. Who hasn't looked in the mirror and felt less than their best?
The great news is that new red light therapy or blue light therapy at-home skin-care devices are now available to help you regain that youthful, glowing appearance. With budget-friendly LED light therapy devices and a short amount of time, you'll soon soothe and satisfy your skin needs, indulging in the best red and blue light therapy can offer you.
But before you start, you might be curious about the difference between red and blue light therapy? We're put together this short guide to help you.
What is LED therapy?
LED light therapy is a safe, effective, and non-invasive at-home skincare treatment to improve the appearance of your skin. By emitting certain wavelengths of light, LED therapy can target specific skin concerns to leave you with a refreshed complexion.
From boosting collagen production and elastin to reducing inflammation, there are many benefits to using an at-home LED device. Light therapy can treat:
What is red light therapy?
Red light therapy, also known as photobiomodulation or low-level light therapy, uses red and near-infrared light wavelengths to improve your skin's appearance. Red light therapy penetrates deep into the tissue to support collagen production, increase blood circulation, and reduce inflammation.
Red light penetrates the skin at a depth of around 8-10mm, making it ideal for targeting the lower layers of the skin. The red light strengthens your cells' mitochondria, improving the cell's energy production and allowing for improved skin repair within the treated area.
As we age, collagen production slows down, leading to fine lines, wrinkles, and a loss of elasticity. You can achieve smoother, plumper, and younger-looking skin by stimulating collagen production with red light therapy.
What are the benefits of red light therapy?
There are many benefits to be had from using red light therapy, including:
Reducing the appearance of stretch marks, fine lines, and wrinkles

Reducing the signs of aging due to blemishes, sun, and age spots.
Reducing the appearance of facial redness, flushing, and telangiectasia (commonly known as spider veins) for those experiencing rosacea.

Stimulating collagen production

Improving skin tone and elasticity

Wound treatment

Tissue repair

Stimulating hair growth

Treating sun spots

Preventing cold sores

Diminishing scars

Alleviating inflammation
What is blue light therapy?
Blue light therapy is a type of therapy that uses blue light wavelengths to penetrate the skin to a depth of around 2-3mm. Because blue light differs in wavelength from red light, it carries a different, higher amount of energy.
Blue light kills the bacteria that promote oil production on your skin, therefore reducing the formation of acne and blemishes. The light penetrates the sebaceous glands to target the infection at its source, making blue light therapy an acne-fighting powerhouse.
Blue light is so powerful that it is even used as a treatment for pre-cancerous growths and non-melanoma skin cancers.
What are the key benefits of blue light therapy?
Blue light is an ideal treatment for a number of skin conditions and, like red light therapy, is safe to do at home with personal devices. 
Frequently Asked Questions
What is the difference between red and blue light therapy?
The key difference between red and blue light therapies is that they use different wavelengths of light. This means that they penetrate the skin to different depths, with red light therapy penetrating deeper into the skin, but blue light has a higher frequency and therefore transmits higher energy levels. Blue light is often used to target surface-level concerns like acne, while red light therapy is often used to improve the appearance of deeper wrinkles and stimulate collagen production.
Does blue and red light therapy work for acne?
Blue light is often used to treat acne as it is effective in destroying Propionibacterium, the bacteria that causes acne breakouts. Blue light therapy can be used alone or with other acne treatments, such as topical creams. When used alongside red light therapy, blue light can help to improve the appearance of acne scars.
Does red and blue light therapy work on wrinkles?
Both forms of therapy can help to improve the appearance of wrinkles. Red light therapy is more often used as it can penetrate deeper into the skin to stimulate collagen, elastin, and hyaluronic acid production. With regular use, red light therapy can help improve the appearance of fine lines and wrinkles by retaining the skin's elasticity.
Are there any safety concerns?
We recommend that goggles are worn for both therapies. Although unlikely, there is a small risk of UV rays being emitted above the red spectrum, while blue light is known to cause eye strain. While the risk of damage, in either case, is minimal, the LEDs are very bright and may be uncomfortable for people with light sensitivity.
What benefits does light therapy provide for skin?
Light therapy gives skin a more youthful appearance, can kill acne-causing bacteria and can help to soothe inflammation. A red light therapy device can stimulate hair growth, reduce inflammation and redness, and even diminish scars. Blue light therapy eliminates bacteria, aiding in acne prevention. Light therapy is a versatile treatment that can be used to improve the appearance of many different skin concerns.
How often should I do light therapy?
Everyone is different. As with anything in life, it is possible to overdo it. A good rule is to start slowly and work your way up. For example, if you use a red light therapy device, you might start with three minutes a day, five times a week, and then increase the time as your skin becomes more accustomed to the treatment. The same goes for blue light therapy, although it is often recommended to start with shorter sessions of two to three minutes and increase the frequency as your skin improves.
Conclusion
Red and blue light therapy are two effective, safe, and easy-to-do treatments that can offer a wide range of benefits for the skin. They can be used to improve the appearance of wrinkles, kill acne-causing bacteria, stimulate collagen production, and much more. When used together, they can provide an even more effective skin-care treatment. Choose the right device for your needs and start enjoying the benefits of light therapy today.